AI implemented in railways systems has become a trend, but when AI computing modules are added to industrial computers (IPC), the overall system power could exceed 300W. The high power consumption brings challenges to the circuit design of the Uninterruptible Power Supply (UPS) that is used as the backup power supply. How do we overcome this challenge? This article will help you find the solution.
Railway systems have always been one of the important transportation tools that people rely on. The energy-saving and carbon reduction trend in recent years further encouraged countries around the world to continue promoting upgrades in railway systems. The International Energy Agency (IEA) clearly indicated in their public report that if passenger and container volume double by 2050 according to expectations, the demand for energy will be greater, and carbon dioxide emissions and air pollution will also become more serious. Expanding the reliance on railway systems could potentially mitigate this growing trend.
Many industries are currently actively seeking AI integration for "intelligent" upgrades with the hopes of leveraging technology to achieve calculations, analysis, and predictions to thereby reach their goals of increasing efficiency and reducing carbon emissions. The railway industry is also keeping up their pace by integrating AI to create railway systems that are safer, smarter, and more efficient. Claus Bahlmann, head of the Siemens Mobility AI R&D team, pointed out that as railway systems become more and more complex, cost and infrastructure that can be built are limited, and regular railway operations have to be unaffected, AI will be the key to railway automation.
AI-based railway systems have many benefits and strong market potential
Claus discussed the benefits of introducing AI into railway systems, including reduced downtime due to maintenance or other reasons, and improved schedule flexibility during peak travel times. If paired with an in-vehicle camera, it is also more convenient for passengers to see how many people are in the vehicle so that they can decide whether or not to board. He admitted that there are still many challenges for railway systems to become fully automated, but once achieved, we can expect transportation systems with enhanced flexibility, reliability, and comfort that better provide the services that people need.
Driven by people's continued expectations for transportation systems with better safety, efficiency, cost, speed, and reliability, the global railway automation market is also expected to continue expanding in the next few years. According to a report this year by international research agency "The Business Research Company", the global railway automation market size is expected to reach $9.79 billion US dollars this year and $13 billion US dollars by 2027 with a compound annual growth rate (CAGR) of 7.4%. Looking at various regions, Western Europe will be the largest market, followed by the Asia-Pacific region.
IPCs are stable enough to become good partners for AI in railway systems
The word AI sounds trendy, but when applied to railways systems that demand the personal safety of many people, stability is more important as we move toward the development of completely unmanned systems. A solution that can meet the expectations of most industry players is a system that is easy to install and use while unaffected by severe environmental changes and bumpy roads. Based on the above characteristics, IPCs have become one of the mainstream options, because they focus on long lifecycles and good stability, while having multiple functions such as connectivity with various peripheral devices, networking, power protection, etc.
Compared to regular business computers, the stability of IPCs and ability to withstand harsh environments are one of their major features. Railways systems usually lack stable power sources, and IPCs are particularly suitable for such applications due to their wide voltage design. For example, DFI's RC300-CS is specially designed for railways systems and can operate at a wide voltage range of 9V-36V or 77V-137.5V. The stability demonstrated by the integration of a wide temperature range, fan-less design, and dust-proof/waterproof features has allowed it to receive multiple EU railway standard certifications, including electronic equipment certification EN50155, fire protection certification EN45545, and shock/vibration certification EN61373.
DFI's unique high-wattage UPS railway system is unafraid of unstable power supply
DFI has demonstrated its capabilities in power supply R&D technology with the RC300-CS that leads the industry with its built-in, high-wattage UPS, which allows the system to continue operating for five minutes even during a power outage. This is not easy to achieve, because after the Nvidia MXM graphics processor (GPU) module is added to the original IPC motherboard to accelerate AI vision and machine learning graphics processing, the overall power consumption increases significantly and UPS charging problems occur. The RC300-CS system's motherboard has an input voltage of 12V, and the UPS contains three strings of lithium batteries to form a circuit that can reach approximately 12.6V when fully charged. Under normal circumstances, the UPS cannot be fully charged. As a result, although the UPS can theoretically provide at least 12V during a power outage, once loss from the discharge pathway is deducted, the final voltage delivered to the system could be too low. The maximum power consumption of the MXM module supported by the RC300-CS reaches 115W. Once the motherboard is added, the overall system power consumption could reach 300W. Once the voltage is insufficient, the system could ultimately shut down due to insufficient power.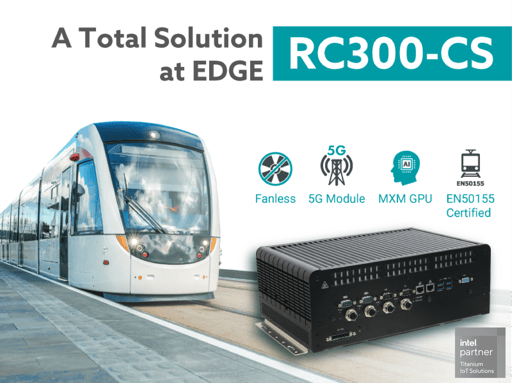 One of the most commonly associated methods to fully charge a UPS is to add a boost circuit. However, this method not only causes extra power consumption, but it also generates heat, which leads to greater system risks and higher costs. If the design is not changed, most other similar products in the industry will limit the overall power or remove the MXM module to prevent such situations. However, the mentioned methods of limiting power or removing MXM causes a lot of inconvenience with system deployment and usage, while also affecting user experience. Thus, DFI's power supply team utilized a special architectural design to resolve the problem. The UPS used by the RC300-CS can provide uninterrupted train safety and maintain or even strengthen cost competitiveness.
Modular circuits help to guarantee DFI's product quality
In addition to using research and development to enhance product stability, DFI has built long-established "modular circuits" and has accumulated over 200 module circuits with different functions. These are weapons that ensure DFI's continued quality and leading position in the industry.
Modular circuits standardize past circuit designs, including the IC and various materials used. They are clearly defined in advance so that R&D personnel only need to search according to functions and specifications of the product unit in order to find the corresponding circuit. Basically, the concept is similar to using "building blocks" to design electric circuits. Using modular circuits with Auto Bill of Materials (BOM) potentially speeds up the R&D process so that creating BOM could be completed in hours instead of days. Additionally, the module has been repeatedly verified and corrected numerous times, with a dedicated team that manages and updates module versions, so that product quality is further strengthened. Especially when it comes to power supply design, traditional methods might have required repeated testing for verification, which is time-consuming and labor-intensive. Modular circuits effectively reduce troublesome verifications.
As AI rapidly enters our daily lives, DFI aims to be the best partner for industrial AI
Focusing on the future, emerging technologies such as Edge AI and Artificial Intelligence of Things (AIoT) are not only used in railway systems but are also closely integrated into our daily lives. In order to drive these new technologies and pursue high computing power, it is crucial to have stricter testing for features such as system operational stability, heat dissipation, and power consumption. In the next few years, IPC R&D is expected to focus on maintaining stability and quality while achieving smaller size, faster speed, and more productivity. With its existing strengths and advantages as a basis, DFI will also continue to strengthen R&D, introduce smart factories into production, and optimize cost and efficiency, with the goal of becoming the best partner in the future for industrial AI and intelligent transformation.
Key highlights:
Issue

Traditional UPS cannot fully charge in a 12V system, which could cause the system to shut down when the power supply is interrupted.

Solution

DFI uses a unique architecture to improve the RC300-CS's UPS electric circuit and resolve the problem of it being unable to fully charge.

Result

During a power outage, it can continue to operate for at least 5 minutes, maintaining its advantage in cost competitiveness.

Other

special features

Expandable 5G/LTE/4G network function modules

4 sets of 2.5-inch solid-state drive (SSD) expansion slots

Fan-less design supports temperature range of -25o~70o C (without MXM)

Passed EU railway standard certifications, including electronic equipment certification EN50155, fire protection certification EN45545, and shock/vibration certification EN61373
Founded in 1981, DFI is a global leading provider of high-performance computing technology across multiple embedded industries. With its innovative design and premium quality management system, DFI's industrial-grade solutions enable customers to optimize their equipment and ensure high reliability, long-term life cycle, and 24/7 durability in a breadth of markets including Industry Automation, Medical, Gaming, Transportation, Energy, mission-critical, and intelligent retail.