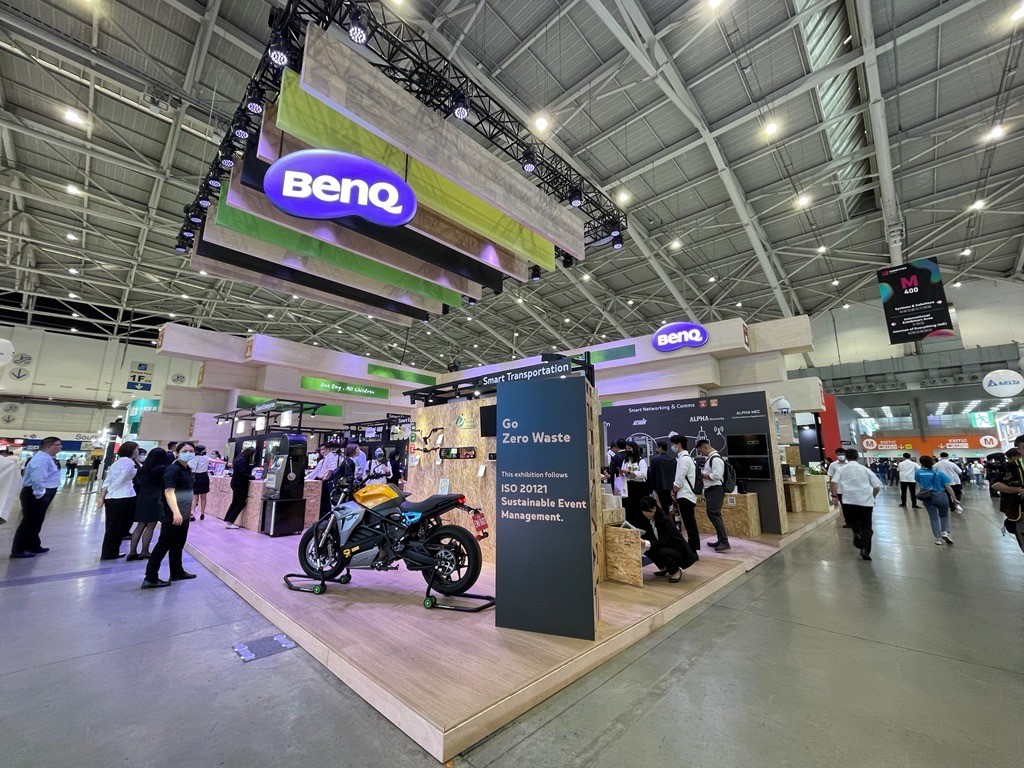 Computex 2023! Look How 5G Smart Poles Drives Intelligent Transportation
BenQ and DFI presented their solutions live at Computex 2023! With the trends of sustainability and net zero, countries around the world have recently increased their investments toward the development of new technologies such as 5G, AI, sensors, and IoT to actively build "smart cities". Among the many smart applications in smart cities, smart transportation has been regarded as a major focus. Especially driven by the launch of 5G and automobiles gradually moving toward digital transformation, the implementation of smart transportation-related applications has been accelerated. Combining various advanced technologies and upgraded from traditional street lights that can be seen everywhere, Smart Poles have gradually become a spotlight for the industry in recent years. DFI, a global embedded motherboard and industrial computer brand for over 40 years, focused on smart transportation as their theme at Computex 2023. They showcased their 5G smart pole solution, utilizing the popular AI edge computing and integrating Cellular V2X technology, environmental monitoring, charging equipment and other hardware. Their multi-pronged approach improves the safety and efficiency of urban governance, presenting a new future look for the transportation field.
With a market size of tens of billions of dollars, what is smart pole?
Smart Poles are an emerging technology developed from upgrading street lights. Traditional street lights only have the function of lighting. However, once they are made to be intelligent, they can be transformed into a large-scale intelligent device that have capabilities such as image recognition, air quality monitoring, and charging for vehicles. In other words, future street lights that are upgraded to smart poles can not only illuminate streets for passers-by, but also provide real-time road information so that drivers can become "smart passers-by". Furthermore, smart poles are expected to become a major driving force for countries around the world to achieve the goal of "net-zero carbon emissions".
Smart poles have received attention not only because they are topical and forward-looking, but also because of its huge potential commercial value. Most international market research agencies are optimistic. For example, "Technavio" predicts that by 2026, the global smart pole market size will be up to $13.8 billion US dollars, and the compound annual growth rate from 2021 to 2026 will be about 19.9%.
The commercial value of smart poles is apparent, but the market research agency also emphasized in the report that the key driver in the growth of smart poles is its multifunctional value. The current lack of standard specifications also requires businesses to work together to formulate. This means that the success of smart poles is dependent upon teamwork. With this in mind, the industry is proactively planning ahead. For example, Taiwanese manufacturers established the "5G Smart Pole Standard Promotion Alliance" two years ago. DFI and more than 50 manufacturers from different fields gathered in hopes of formulating standard specifications as quickly as possible. In order to seize the opportunity and implement the intelligent transformation of global street lights, they have successfully completed the technical specifications.
DFI attended Computex 2023 and showcased 5G smart pole solution that is among the most comprehensive in the industry
Taking a closer look at Smart Poles, including roadside units (RSU), DFI demonstrated their solutions in the following stages:
Using sensors, cameras, or various IoT devices to collect all kinds of raw data.

Data is transmitted to the edge computing computer in real time for computing and data interpretation.

Coordinating with connected devices and C-V2X technology, calculation results are sent back to the cloud or sent to the on-board unit (OBU) of the smart car.
This shows that when we want to implement the diverse functions of 5G smart poles, computing plays an important role. Creating embedded, high-performance computing solutions is DFI's strength. Coupled with Qisda Group's resources and team strength from the smart pole standard promotion alliance, DFI already has all of the important technologies and team resources for the development of smart poles mentioned above. With the slogan "Digitalization of Transportation, Better Mobility", DFI has given their best at this year's Computex. Joining hands with partners such as 5GIoTLead Technology, they have exhibited their 5G smart pole solutions with the concept "full display of team strength". From AI image recognition and transmission to information security protection and cloud operations management, they have attracted a lot of global attention.
The "immediacy" of edge computing is significantly important because reducing accidents is a major goal with the intelligent transformation of transportation. Specially designed for edge visual computing, DFI's compact, fan-less computer EC70A-TGU performs real-time AI data computing on images captured by the camera lens. The rugged industrial computer EXC700-AL is used as an RSU, utilizing C-V2X technology from the Internet of Vehicles. Combined with software and hardware designs such as high gain antennas, it can fulfill the demands of smart pole real-time and accurate data transmission and reception.
The data transmitted by the smart pole will be received by the OBU VC230-AL from the vehicle end. The driver can obtain the required information in real-time with the car touch tablet VP101-BT. By using DFI's solution, the entire seemingly complicated process can be completed in milliseconds. It is worth mentioning that DFI is not only committed to the present, but also planning ahead for potential demands in the future. This includes focusing on the information security issues that they will inevitably face with street lamps and cars connecting to the internet. DFI leads the industry in integrating xCarbon, a security solution by information security company VicOne under Trend Micro. With 5GIoTLead Technology's 5G Smart Pole Service Platform, the functions are designed in a modular way and presented with a GUI visual management interface, allowing customers to manage smart poles in the easiest way.
Future business opportunities for smart poles are promising, and DFI strengthens the ecosystem by providing the best services.
In recent years, due to the trend of energy saving and carbon reduction, the automobile industry has initiated a major transformation toward electrification and intelligence. It has become a trend for all future cars to be connected to the Internet and achieve autonomous driving. The intelligent transformation of street lamps is still in its initial stage, and it has been reported that only 2% of the world's street lamps have completed intelligent transformation. In Taiwan, the field experiment by the Taipei City Government and 5G Smart Pole Standard Promotion Alliance has only just started. However, with the transformation of the automobile industry and non-stop efforts by each country to promote the transformation of smart cities, penetration rate increase for smart poles or accelerated implementation of other smart transportation applications are just around the corner.
In order to seize future opportunities, DFI will continue to develop innovative hardware technologies and invest in IPC solutions with features such as high performance, low power consumption, miniaturization, and high reliability. At the same time, they will continue to strive to strengthen the ecosystem and gather energy from different industry partners. Through diversified planning of resource integration from the inside out, as well as service that is precise and complete, DFI can provide customers with smart transportation solutions that are most cost-effective and best fit their needs. DFI assists customers by quickly deploying final applications and jointly move toward their goal of realizing the smart city vision.
Founded in 1981, DFI is a global leading provider of high-performance computing technology across multiple embedded industries. With its innovative design and premium quality management system, DFI's industrial-grade solutions enable customers to optimize their equipment and ensure high reliability, long-term life cycle, and 24/7 durability in a breadth of markets including Industry Automation, Medical, Gaming, Transportation, Energy, mission-critical, and intelligent retail.
Get the latest from DFI.
Keep up to date with our latest news and analysis by subscribing to our regular newsletter.