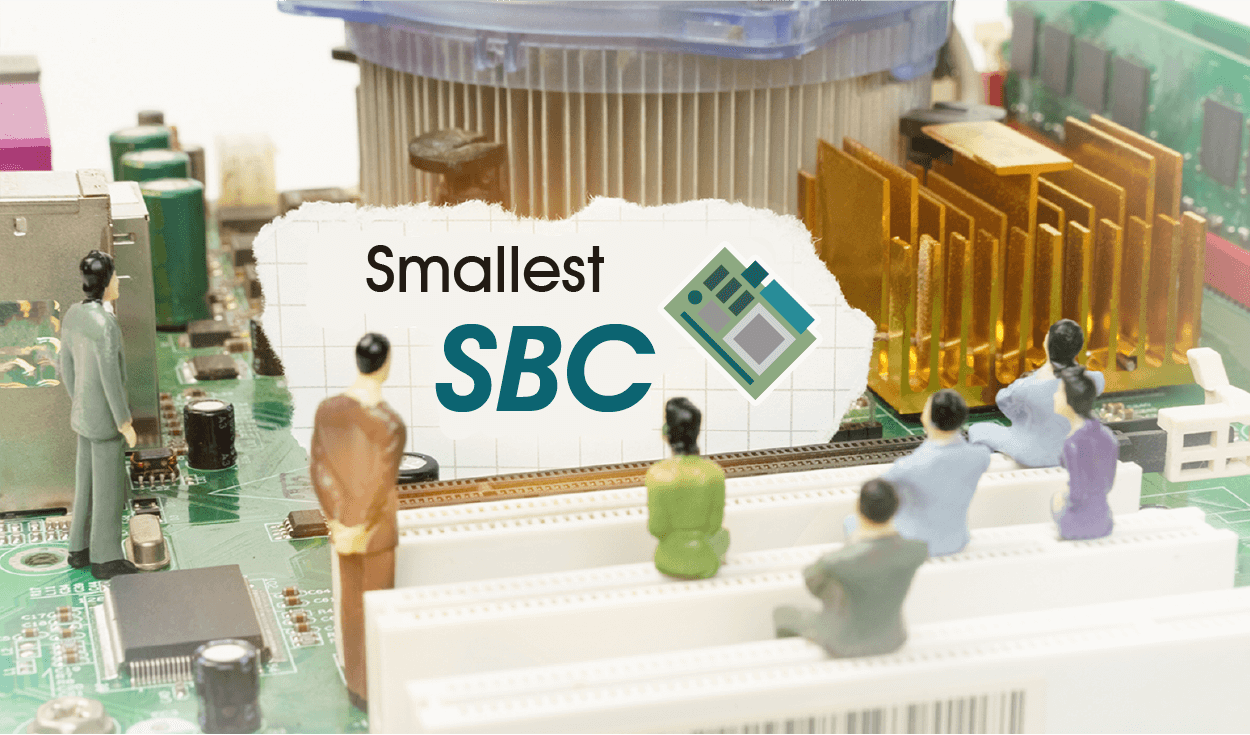 Best Single-Board Computers of 2023: Raspberry Pi Alternatives
A single-board computer (SBC) is a computer board that has all the necessary components to run, such as a processor and DRAM built in. SBCs do not rely on expansion slots for expansion, unlike ATX motherboards. Industrial settings are where single-board computers are most frequently utilized, either embedded inside other equipment or used in a rackmount setup. Because all components are on a single board, system size is reduced.
How many types (form factors) of single-board computers are there?
Unlike ATX motherboards, single-board computers come in a plethora of different sizes and form factors, and many boards do not follow a strict standard. For this reason, it is not always easy to know which boards will fit a specific enclosure. Despite this, it is usually possible to find boards that do follow standardized form factors, such as:
Dimensions: 3.31 x 2.17 in (84.5 × 55.6 mm), may differ by manufacturer

Processor: though they may depend on the specific design, processor types on the SBC commonly include low-power processors, such as ARM-based processors or Intel Atom processors, which are usually system-on-chip (SoC) processors integrated directly onto the board to dovetail with embedded applications.

RAM: onboard Memory Down, such as LPDDR3 and LPDDR4, up to 8GB is commonplace.

Storage: Embedded MultiMediaCard (eMMC) up to 128GB is typically embedded as the default storage option, usually with an M.2 expansion slot for an additional SATA SSD.

Input and output: interfaces such as USB, GbE, audio, display, and serial ports are also provided though highly dependent on the manufacturer's design.
Operating system: an SBC would typically operate on mobile platforms such as Linux, Windows Embedded, or Android that are compatible with ARM architectures dictated by the processor on board.
In general, being the smallest form factor in the arena of SBCs does make the two extremes intersect: the amount of space saved and the amount of computing power sacrificed to make a 1.8" SBC only suitable for specialized applications.
2.5" Pico-ITX SBC board (100 x 72 mm) with a small form factor supports low power consumption and fanless design with rich I/O connectivity, mainly to be targeted in space-limited embedded applications such as site management and IoT gateway in industrial plants.
Dimensions: The 2.5" Pico-ITX board measures 100mm x 72mm in size, making it one of the smallest form factor boards available.

Processor: The board is powered by a low-power processor, typically an ARM-based SoC (system on a chip) or an Intel Atom processor.

RAM: It typically supports up to 4GB of DDR3 or DDR4 RAM, which is sufficient for most embedded and industrial applications.

Storage: The board typically features onboard storage options, including eMMC and mSATA, as well as support for external storage via USB or SATA.

Input and output: The 2.5" Pico-ITX board typically features a range of I/O interfaces, including HDMI, DP, USB, Ethernet, audio, and GPIO pins. Some boards also include wireless connectivity options such as Wi-Fi and Bluetooth.

Operating system: The board is typically designed to run a variety of operating systems, including Linux, Windows, Yocto 2.5 on Emmc, and Android. However, the specific operating system supported may depend on the processor and board manufacturer.



A pristine line sets 3.5" and 4" SBCs apart from 1.8" SBCs in terms of functionality, versatility, and computing power. The performance increase is achieved at the cost of doubling the width and possibly height when heatsinks and drives are mounted.
Dimensions: 75 x 4.02 in (146 x 102 mm), may differ by manufacturer

Processor: though almost twice the size of its 1.8" counterpart, a 3.5" SBC usually specifies system-on-chip (SoC) processors, including low-power processors, such as ARM-based and Intel Atom processors. The extra space available for heat dissipation usually allows designers to go for processors with higher TDP, which means ambitious designs with Intel® Core™ processors are also possible.

RAM: It is crucial to note that with the extra space, the design with either or both onboard (e.g., DDR3L) and memory module (e.g., DDR4 SO-DIMM) can be found, with a little bit more flexibility that can yield up to 64GB.

Storage: Options available on larger form factors, such as SATA, mSATA, and M.2, are almost standard on 3.5" SBCs. SATA and mSATA drives offer high-capacity storage but are the bulkiest; M.2 SSDs, a good trade-off option, are smaller and offer high data transfer rates.

Input and output: Standard PC interfaces such as USB, GbE, audio, display, and other industry specifications such as serial ports and CAN buses are also available. And to no one's surprise, the nearly doubled size allows double (sometimes triple) the number of USB, GbE, and even video display ports.

Operating Systems: A range of options, including Linux (e.g., Ubuntu and Yocto), Windows IoT and Windows Embedded, and Android, are often opted for industrial and commercial applications.
As often deployed in settings such as signage, kiosks, and IoT edge devices, 3.5 SBCs are certainly big enough to handle the display, storage, and video streaming needs and functionalities.
Though half an inch isn't a considerable difference, the slightly bigger size allows room and encourages designers to incorporate more connectivity and expansion, nudging a mobile-sized board into the realm of a personalized computer.
6.49 x 4.53 in (165 x 115 mm), may differ by manufacturer

Processor: ARM and x86 processors can be specified on a 4" SBC, but you will be surprised how many of these fledglings are equipped with powerful onboard processors such as those in the 12th Gen Intel® Core™ i7 series.

RAM: Similar to 3.5" SBCs, both onboard and module memories can be featured on a 4" SBC.

Storage: As you may have expected, options for storage are not going to be revolutionary, allowing the most common SATA, mSATA, and M.2 SSDs.

Expansion: It is no joke that a mini PCIe and a PCIe x8 slot can be found on a 4" board. Whether used for graphics cards or M. 2 NVMe SSDs, the expansion option certainly is nice to have, though extra thermal solutions might be required.

Input and output: As the standard interfaces are all available, the only thing to do with the extra space is to quadruple the number of USB ports. Some high-end SBCs may even venture to include triple displays.

Operating Systems: However robust the functionalities and connectivity of the form factor seem, 4" SBCs are still strictly considered a solution for mainly robots, edge, signage, and automation, which means the OSs to be expected are mostly designed to tackle specialized tasks rather than heavy computing, frequently providing embedded and mobile platforms such as Linux, Windows IoT, Windows Embedded, and Android.
In a word, 1.8" SBCs are what they boast of, being small and not as versatile, while 2.5", 3.5", and 4" SBCs readily allow expansion, solid storage options, and a broader range of connectivity.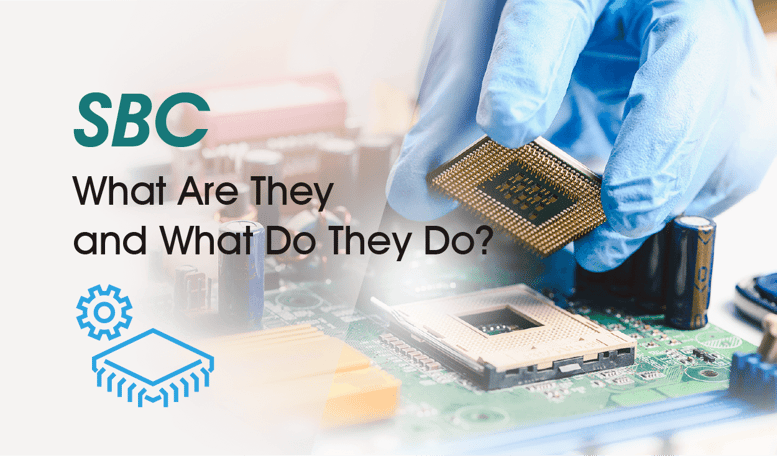 How to select the right single-board computer?
Know your application before you choose
As single-board computers have already become well-developed, fueled by a competitive market, you will not find it challenging to come across multiple choices already designed to meet the needs of your application. However, knowing what you're trying to achieve is always the first step to choosing the tool you need. Here are a few guidelines for you to help determine what SBC form factor the category of your application may fall into.
Portable and handheld devices such as consoles that perform single tasks might be best suited for the more compact form factor: 1.8" SBC.
Smart devices, such as sensors or home automation systems often designed to sit tight unobtrusively in a corner, usually call for a 1.8" SBC. In healthcare and transportation, for example, multiple connectivity options, such as Wi-Fi and Bluetooth for frequent communication can require the more versatile and full-fledged 3.5" or 4" SBCs.
In robotics applications, the SBC must fit inside the robot's chassis, so, the smaller, the better. A robot normally operates on batteries to fuel its brain and limbs, so a power-draining SBC is usually off-limits. However, for some intricate robots that are expected to carry out problem-solving skills, tradeoffs will have to be made to, for example, bolster the peripheral sensors and process object detection. These additional considerations will decide whether a more versatile 3.5" or even 4" SBC will be a better option for the robots.
Applications that require expansion cards and modules ultimately cannot skimp on chassis space – imagine modules jutting upright and an SSD possibly bigger than the motherboard. Two essential types of expansions that impact the most on space are possible storage and graphics. For example, video footage and imaging tasks can rely heavily on the drive space for storing copious amounts of videos and an external graphics card for processing. In this case, the more versatile 3.5" and 4" SBCs will be better equipped to tackle the arduous work.
Signals such as GPIO, CAN bus, UART, SPI, or I2C, in particular, are quite crucial since dealing with switches, sensors, and communication for critical services cannot afford to let anything go amiss. Such applications are as follows:
Smart city devices that collect data related to traffic patterns, air quality, etc.

Medical imaging equipment, electronic health records, patient data, and instrument operations.

Industrial automation that controls performance, product line monitoring, quality control, etc.
Thus it is vital to choose an SBC with an interface built-in or that supports an expansion module to account for the protocols in question.
Determine the budget
A few rules of thumb for you to decide what to go for are as follows:
Processors of high-end brand names will generally cost more than lower-end processors.

More memory, usually hand in hand with more powerful processors, will generally cost more.

SBCs with pre-installed operating systems, such as Linux or Windows, and those that require a license may be more costly.

Accessories, such as a case, power supply, SSDs, and antennas, may add to your project's expenses.

SBCs with more connectivity options, such as Wi-Fi, Bluetooth, Ethernet, or USB ports, will generally cost more. And this is a crucial decision since an SBC doesn't come with a luxurious number of expansion slots. You cannot plug in a Wi-fi module when there's already a graphics card in situ.

A powerful, dedicated graphics processing unit (GPU), aka graphics, has the most impact. The additional expansion slot, the space and chassis design to accommodate, and – never forget – the thermal solution to cool this processor shall not be neglected.

However counterintuitive it might seem, smaller form-factor SBCs, such as those that can fit in a pocket or are designed for embedded systems, can be more expensive than larger form-factor SBCs. The ingenuity to fit everything on a tiny board does come with a price.

Well-known brands may command a higher price than lesser-known brands. The perks cannot go unacknowledged: durability, quality, after-sales services, etc.

Development tools and software support can sometimes be sold with the board as a package. Ensure they are useful utilities to your application before you opt for products marketed as complete solution packages.

Customization: This is uncharted territory since everything can add up to a considerable sum of money from designing the PCB layout to the minimum order quantities (MOQs).
Underlying architecture -

ARM

vs. x86

SBCs
A quick catch-up on the differences between the two: ARM architectures were first populated in mobiles and are widely used in embedded solutions. The x86 systems had been in the computer industry for at least a decade before ARM and were once the dominant PC platform before x64 came into play.
Regarding the pros and cons, here are a few guidelines to help you choose between the two.
Performance: x86 processors generally perform better than ARM counterparts at the expense of power consumption. You cannot expect a more powerful design to use less energy.

Power Consumption: ARM processors are generally more power-efficient, allowing them to be compatible with battery-operated devices or applications.

Cost: ARM-based SBCs are generally more budget-friendly, making them a more attractive option for applications with shorter cycles.

Compatibility: x86 processors have been evolving to accommodate the needs of smaller applications for having the vantage point of their existing compatibility with a broader range of operating systems and software. Whereas ARM processors are commonly expected in embedded systems and mobile devices. However, this delineation has been blurred in many small computers.

Development Tools: The distinct platforms may be exalted by developers, who might be more comfortable working with x86-based tools... Make sure your software team gives their consent before your procurement.
Desired OS
Finding an SBC that can run standard x86 Windows can be difficult; not only do you need to find a board that uses the x86 architecture, but you also need to ensure that the board's system specs meet the minimum specifications of the Windows version you want to run. According to Microsoft, the minimum system requirements for Windows 11 are a 1GHz or faster 64-bit CPU with two or more cores and 4GB of RAM.
Raspberry Pi is the name given to a line of SBCs manufactured by the Raspberry Pi Foundation, a UK charity promoting computing education. Their SBCs are famous for being highly affordable and extremely small but lack the power needed for regular computer use or industrial use cases. Raspberry Pi SBCs are, by design suited for education and are excellent entry-level boards for beginners. Due to their affordability, Raspberry Pi SBCs are often used for proofs-of-concept during product design. The Raspberry Pi Zero is often considered the smallest SBC, but due to its design and target audience, it is not a viable solution for most use cases outside education.
Below are some of the recommended alternatives from different industrial motherboard manufacturers. You could choose from what you need.
Overview
DFI'

s

credit card-sized 3.31 x 2.17 in (84 x 55 mm) SBC, GHF51, is one of the world's smallest SBCs. Powered by AMD Ryzen™ Embedded R1000 Series, the board offers the outstanding performance of a modern PC. Single-board computers are suitable for a wide range of industrial-grade applications, and their economical entry-level price tag allows everyone to learn and prototype ideas without breaking the bank.
Let's have a quick look at unboxing videos that introduce DFI's GHF51:
Features:
AMD Ryzen™ Embedded R1000 Series

Small form factor 1.8" SBC for space-limited applications

Single Channel DDR4 Memory Down up to 4GB/8GB

HDMI 1.4 resolution supports up to 4096 x 2160 @ 24Hz

Expansion and Storage: 1 Mini PCIe, 1 SMBus

Rich I/O: 1 Intel GbE, 1 USB 3.1 Gen 2, 2 Micro HDMI

10-Year CPU Life Cycle Support Until Q1' 30 (Based on AMD Roadmap)
Pros & Cons:
Pros
Powerful Processor: The AMD Ryzen Embedded processors used in GHF51 are powerful and energy-efficient, with a range of options to suit different performance needs, designed specifically for embedded systems that require high-performance processing capabilities. The R1606G and R1505G dual-core options offer a base clock speed of up to 2.6 GHz or 3.5 GHz (overclock), knocking socks off for a tiny board like this. The less powerful R1305G and R1102G on the other hand still offer dual-core processing and 3 computing units. Plus, the Vega GPU is also designed to accelerate graphics and multimedia applications. The CPU and GPU combined make it a powerful candidate for digital signage, industrial automation, and gaming.

High-Resolution Display: With AMD GPU, it is natively 4096 x 2160 (4K) resolution at 24Hz via HDMI, making it suitable for use in a variety of display applications.

Multiple I/O Interface Support: GHF51 with small footprint without sacrificing expandability, still offering dual HDMI display, USB 3.1, and Mini PCIe for 3G/4G/Wifi cards. Its flexibility and versatility pack IoT and edge computing right into your business.

Connectivity: The additional DIO provides control over your applications, such as sensors, switches, and LED, which can be essential in industrial applications.

Temperature Range: The operating temperatures between 0°C to 60°C are certainly designed to withstand harsh environments, not to mention the optional upgrade to an even wider range (-20 to 70°C).

Rapid Prototyping: GHF51 is ideal for various space-limited applications, which makes development SBCs the preferred option for prototyping. However, they also pose a challenge to mass production. DFI, with its ODM/OEM business, now provides professional services for BIOS/OS/firmware/software on industrial SBCs. This ensures that the prototype design is production-ready and can easily overcome production restrictions while providing deterministic performance for the final product.

Long-term Life Support: Specialized in industrial solutions, DFI's GHF51 adheres to AMD's long-lifecycle support roadmap for CPUs. This ensures that GHF51 will be available for up to 10 years, enabling long-term system upgrades without compatibility concerns.
Cons
The micro HDMI ports somehow after years still haven't caught on properly, which can be a minor nuisance as additional adaptors are called for to work with your existing monitors and displays.

The high-power computing units can turn the chassis into a portable furnace, so be prepared to incorporate potent thermal dissipation schemes—cooling systems such as fans and heatsinks.

The number of USB ports in general is meager. The remedy is provided via the mini PCIe expansion slot to mount a USB module. In some cases, USB peripherals can be unimportant, so this design possibly helps save space, an advantage to certain applications.

Industry-oriented: The platform is clearly geared towards IoT and automation, namely UEFI-based Windows 10 IoT Enterprise 64-bit and Ubuntu. Android zealots might find it a shame that an ARM-compatible option is not available.



Specification:
Processor

GPU

Memory

AMD Vega GPU with up to 3 computing units.

DDR4 Memory Down up to 4GB/8GB

Single Channel DDR4 2400MHz
Overview
DFI has employed AMD Ryzen™ Embedded R-Series SoCs to achieve a compact and flexible form factor, comparable to that of Raspberry Pi. The latest groundbreaking miniaturization technology from DFI, PCSF51, utilizes the AMD Ryzen Embedded R2000 for demanding graphics, ultra-small, and edge computing solutions. The PCSF51 is designed specifically for industrial application development, robotics, edge computing, and vision systems, delivering exceptional multi-core performance and facilitating advanced AI inference capabilities.
Features:
AMD Ryzen™ Embedded R2000 Series - Picasso

Small form factor 1.8" SBC for space-limited applications

Single Channel DDR4 Memory Down up to 4GB/8GB

HDMI 1.4 resolution supports up to 4096 x 2160 @ 24Hz

Storage up to 128GB: eMMC 32GB/ 64GB/ 128GB

10-Year CPU Life Cycle Support Until Q2' 32 (Based on AMD Roadmap)
Pros & Cons:
In general, the two boards by DFI are similar yet complementary. A few features might be considered as weaknesses that are rectified in this later SBC design, not to mention the ever more exciting upgrades.
Pros
Powerful Processor: The processor options of the Dual Core R2312 (2.7GHz) and the Quad Core R2514 (2.1GHz) are certainly a step up. Plus the AMD Vega GPU with up to 8 computing units, computing-intensive tasks are going to be less of a concern, opening up new ways to deploy small boards in applications and settings unforeseen.

Upgraded Graphic Performance:

With optimization for AMD Radeon™ Graphics and Vega GPU, the latest generation delivers a 50% increase in graphics performance with up to 8 compute units (CUs), surpassing the previous generation.

High-Resolution Display: The standard 4096x2160 (4K) resolution at 24Hz via HDMI – a standard HDMI as well, not the mini-jack – makes it more approachable.

Connectivity: Similar to GHF51, the additional DIO provides signal control over your industry-specific applications. The dual USB 3.1 ports also enable high-bandwidth peripheral connections. Additionally, the dual USB 3.1 ports provide high-bandwidth connectivity for peripheral devices. To further enhance compatibility and expandability, PCSF51 features a diverse selection of expansion slots, including SATA 3.0 and M.2 expansion.

Temperature Range: The wide operating temperatures (0°C to 60°C) are still an advantage, though an optional upgrade to a wider range (-20 to 70°C) is not available.

On-Board 128GB eMMC storage: It is equivalent to a phone of the latest model. This amount of storage is a statement piece that this SBC is welcoming a new era of small computers.

Long-term Life Support: Focused on industrial-grade solutions, DFI's PCSF51 adheres to AMD's long-lifecycle support roadmap for CPUs. This ensures that PCSF51 will be supported for up to 10 years, guaranteeing long-term system upgrades and replacement without compatibility concerns.
Cons
CPU overclocking is simply not an option, but considering the overall performance of the AMD Ryzen R2000 series, it might not be much of an issue.

Cost: One simply cannot take AMD Ryzen processors lightly. Be prepared to see how the processor reflects on the price of the SBC.



Specification:
Processor

GPU

Memory

AMD Ryzen™ Embedded R2000 Series - Picasso

AMD Vega GPU with up to 8 computing units

DDR4 Memory Down up to 4GB/8GB

Single Channel DDR4-2667

(R2312 with DDR4-2400)
Features:
Performance: Broadcom BCM2711 quad-core Cortex-A72 (ARM v8) 64-bit SoC, and 2GB, 4GB, or 8GB of LPDDR4-3200 SDRAM

Connectivity: Gigabit Ethernet, dual-band 802.11ac wireless, Bluetooth 5.0, BLE, two USB 3.0 ports, and a 40-pin GPIO header.

Video and Audio: dual-display output with resolutions up to 4K through its two micro-HDMI ports

Power: a 5V USB-C power supply with a minimum 3A output, a power-over-ethernet (PoE) header

Operating Systems: Raspberry Pi OS, Ubuntu, Linux, Windows 10 IoT Core
Pros & Cons
Pros
The 5V USB-C power jack basically turns Raspberry Pi 4 into a hybrid between a tablet and a laptop. This compatibility allows you to plug in the board the same way you plug in your phone—except that some cables designed for Thunderbolt are not going to be compatible.

Cheap: Spend about 150 dollars and you get yourself a computer. That does sound very enticing. Plug in the SD card that has been sitting there in your camera for years and hook up the peripherals, and you are good to go.

Online forum: Given how many tech gurus there are online, the mammoth amount of know-how and creative solutions you can find free online is going to make designing and developing your own application so much easier. The popularity of Raspberry Pi allows you to save time and effort after your purchase if you just follow the "recipes" online—you can even find videos that teach you how to make makeshift chassis for the board.
Cons
SD card for OS and storage: The downsides of this design—though absolutely applicable and somehow clever—limit Raspberry Pi to the role of developers' prototyping process. An SD card has a rather limited lifespan, slower performance, higher risk of data corruption, limited storage capacity, a limited number of read/write cycles, and a lot of compatibility issues—safety schemes for data backup and security, such as TPM and NVMe, are out of the question. This gimmicky design certainly has helped programmers and developers tremendously, but using it in other industries such as IoT and automation can greatly undermine your application.

Performance and compatibility: If you opt for Raspberry Pi 4, you shouldn't really expect it to have any real-time responses and smooth operations. ARM processors are just not cut out for heavy and fast work. A lot of gurus have figured out how to, for example, run Minecraft and Windows 11 on Raspberry Pi 4, but the length you have to go to to make it work is really not worth it.
Specification:
| | | |
| --- | --- | --- |
| Processor | GPU | Memory |
| Broadcom BCM2711 | Broadcom VideoCore VI | 64-bit dual-channel LPDDR4@3200Mb/s:8GB |
Features:
A single-board computer similar to Raspberry Pi, featuring a 1.8GHz quad-core processor and 2GB of RAM, as well as supporting 4K video output and Gigabit Ethernet

Compact size and form factor for easy integration into projects

GPIO header with support for PWM, I2C, SPI, and UART

Support for multiple operating systems including Debian and Android

Integrated Wi-Fi and Bluetooth connectivity

4 USB 2.0 ports for peripheral connectivity

MicroSD card slot for storage expansion

Connectivity: 802.11 b/g/n Wi-Fi, Bluetooth 4.0, 4 USB 2.0 ports, 1 HDMI output, 1 3.5mm audio jack, 1 GPIO header

Dimensions: 85.60mm x 54.00mm

Storage: MicroSD card slot for up to 128GB storage expansion
Pros & Cons
Pros:
Powerful quad-core ARM Cortex-A17 processor with 2GB RAM

Dedicated GPU for smooth multimedia playback and gaming

High-resolution display output with support for up to 4K resolution

Affordable price point compared to similar single-board computers

Strong community support for troubleshooting and project ideas
Cons:
Limited availability compared to more popular single-board computers

Some compatibility issues with certain operating systems and applications

No onboard Ethernet port, requiring the use of an external adapter for wired networking

No onboard storage, requiring the use of a separate microSD card for the operating system and data storage
Specification:
| | | |
| --- | --- | --- |
| Processor | GPU | Memory |
| Rockchip RK3288 quad-core ARM Cortex-A17 CPU | Mali-T764 GPU with support for OpenGL ES 1.1/2.0/3.0, OpenVG1.1, OpenCL, and DirectX11 | 2GB DDR3 RAM |
Features:
Single-board computer similar to Raspberry Pi

Quad-core processor with a clock speed of 1.8GHz

2GB of RAM

Supports 4K video output and Gigabit Ethernet

Various interfaces, including USB, HDMI, and Ethernet

Storage: MicroSD slot for up to 128GB

Interfaces: HDMI, Ethernet, USB 2.0/3.0, GPIO, I2C, SPI, UART, and more.



Pros & Cons
Pros:
Affordable and compact

High processing power and memory capacity

Supports multiple operating systems, including Ubuntu and Debian

Provides rich interfaces and peripheral devices for versatile applications
Cons:
Not as popular as Raspberry Pi, which may limit community support and available resources

May require some technical expertise to set up and configure
Specification:
| | | |
| --- | --- | --- |
| Processor | GPU | Memory |
| Rockchip RK3288 Cortex-A17 quad-core 1.8GHz | Mali-T764 | 2GB DDR3 |
Features:
A single-board computer that is similar to the Raspberry Pi, designed for hobbyists and enthusiasts.

Synaptics VideoSmart VS680 quad-core Cortex-A73 (2.1GHz) and One Cortex-M3 processor

Powerful CPU performance includes: imagination GE9920 GPU, NPU for AI up to 6 .75Tops

Memory support up to 4GB LPDDR4, 16GB eMMC flash

2 Key E(PCIe + MIPI CSI)

It comes with a range of ports, including 4 USB 3.0, 1 GbE Ethernet, 1 HDMI in and 1 HDMI out, and audio output, making it easy to connect to other devices and peripherals.

It has built-in Wi-Fi and Bluetooth capabilities, which is a big plus for those who want to connect to the internet or other devices wirelessly.

Banana Pi also has a built-in camera interface, making it easy to connect a camera and use it for a range of applications.



Pros & Cons:
Pros:
Affordable and accessible: Banana Pi is cheaper than many other single-board computers on the market, making it a great option for hobbyists and beginners.

A pioneer edge computing SoC that combines a CPU, NPU, and GPU.

High performance: With a powerful processor and a decent amount of memory, Banana Pi can handle a range of tasks and applications.

Flexible and customizable: Banana Pi supports a range of operating systems and can be used for a range of applications, from media streamers to smart cameras.

Built-in Wi-Fi and Bluetooth: This feature makes it easy to connect to the internet and other devices wirelessly.
Cons:
Limited community support: Compared to other single-board computers like Raspberry Pi, Banana Pi has a smaller community of users, which can make it harder to find support and troubleshooting information online.

Limited OS support: While Banana Pi only supports operating systems such as Android and Linux, not all software is optimized for this device, which can limit its functionality.

Limited hardware accessories: Due to its smaller user base, there are fewer hardware accessories and add-ons available for Banana Pi compared to other single-board computers.
Specification:
| | | |
| --- | --- | --- |
| Processor | GPU | Memory |
| Senary(Synaptics) VideoSmart VS680 quad-core Cortex-A73 (2.1GHz) and One Cortex-M3 processor | Imagination GE9920 GPU | 4GB LPDDR4 |
Features:
AMD Ryzen Embedded V1000 series processor with up to Quad Core/Eight Thread

Up to 32GB dual-channel DDR4 RAM

AMD Radeon Vega 8 graphics

Two HDMI 1.4/2.0a and two DP alternate modes on USB Type-C video interfaces

eMMC 5.0 high-speed drive 32GB soldered on board

SATA III 6Gbit/s standard connector

Gigabit Ethernet (Realtek RTL8111G)

Two USB 3 Type-A

Two USB Type-C

Windows 10 and Linux

Dimensions 12cm x 12cm - 4.72" x 4.72" - (Nano-ITX standard form factor)
Pros & Cons:
Pros
Expansions: Three M.2 modules (M, B, and E keys respectively) can be mounted. Different types of storage devices, including SATA and NVMe, allow for faster data transfer rates and more storage options if you are not a fan of bulky and cumbersome cables of SSDs. The PCIe interfaces also allow you to mount Wi-Fi and Bluetooth modules for more connectivity.

Storage: The number of options for the system storage comes off as a bit of an overkill. Having the eMMC on-board storage, SATA III SSDs, and M.2 SATA SSDs all at once certainly allows a lot more flexibility and security when NVMe is essential to your applications.

Memory: Certainly with the amount of connectivity and peripherals expected to be plugged in, 32GB memory is definitely going to come in handy.
Cons
AMD R1000 processors: For a board this size, the processor option can easily be overwhelmed by what the user might think it can achieve. If DFI's PCSF51 can offer the computing power of the AMD R2000 series, then why is a board twice as big not its match? This implication can be consequential, ruling out a lot of applications in computing-intensive settings.

Nano-ITX: The form factor basically allows the board to be designed as a computer motherboard, which means—thermal solutions, chassis, and expansion modules all combined—the space the final installation takes up can be possibly 8 times as much as a 1.8" SBC would. It makes us wonder, why not choose a slightly bigger board form factor such as Mini-ITX to upgrade your system to a more popular and well-developed option of the ITX family, which probably costs as little, sometimes even less, as Udoo Bolt and is so much more powerful—think about AMD Ryzen 7000 or Intel 13th-Gen. The size being twice as big as 1.8" SBCs does not reflect proportionally on the computing power.
Specification:
| | | |
| --- | --- | --- |
| Processor | GPU | Memory |
| AMD Ryzen™ Embedded V1000 (V1605B - V1202B) series up to 3.6GHz in Boost mode; Up to Quad Core/Eight Thread | AMD Radeon™ Vega 8 Graphics (up to 8 GPU CU) | 2x Slot SO-DIMM Dual-channel 64-bit DDR4 2400 MT/s with ECC support up to 32GB |
Odroid N2+
Features:
Cortex-A73 (Quad-Core) @ 2.4GHz cluster with Cortex-A53 @ 2.0GHz

4 Gbyte DDR4 @1320MHz

GPU: Mali-G52 (Faster than ODROID-N1 T860MP4 GPU)

MicroSD Slot

eMMC Socket

1Gbps Gigabit Ethernet Port RTL8211F

4x USB HOST 3.0 @340MB/s

1 HDMI supports EDID, CEC, HRD, and 4K (60Hz)

40-Pin SPDIF Audio Support

Composite Video Jack

MicroUSB OTG 2.0 Port

Interface for Serial Console

Dimensions (Without Heatsink): 9cm x 9cm x 1.7cm | 90mm x 90mm x 17mm

Dimensions of the Heatsink: 10cm x 9.1cm x 1.875cm | 100mm x 91mm x 18.75mm
Pros & Cons:
Pros
Cheap: The fraction of the cost to purchase an Odroid N2+ (less than 100 dollars) does sound like a dream come true, though the same can be said about Raspberry Pi 4 if you go for the more basic model.

It can be purchased with a fairly compact heatsink that the SBC nestles in.

Storage options are not entirely present just like Raspberry Pi 4 (SD card for OS). However, it provides an eMMC slot for you to mount a more trustworthy storage option. Another MicroSD slot is also provided when extra space is called for. It's technically not a win to only have these options if compared with DFI's offer with up to 128GB, but it also reflects honestly on the price.

Developers' kit: Including extensions, touch screens, and hubs, Odroid N2+ as a development SBC has a lot of added values already designed to make it worthwhile havin

g.
Cons
Non-standardized form factor: it might be of a huge concern given that Odroid N2+ is designed for the developers' market. It, however, limits the options of other solutions to how different industries may want to use it to develop prototype models and test out functions that can work on certain standardized form factors with the potential ready for manufacture.

Basic performance: As we fall back into the realm of ARM processors, the performance of Odroid N2+ can probably only handle simple tasks that do not frequent the area of industrial applications.
Specification:
| | | |
| --- | --- | --- |
| Processor | GPU | Memory |
| Cortex-A73 (Quad-Core) @ 2.4GHz | Mali-G52 | 4 GB DDR4 @1320MHz |
Reference:
Founded in 1981, DFI is a global leading provider of high-performance computing technology across multiple embedded industries. With its innovative design and premium quality management system, DFI's industrial-grade solutions enable customers to optimize their equipment and ensure high reliability, long-term life cycle, and 24/7 durability in a breadth of markets including Industry Automation, Medical, Gaming, Transportation, Energy, mission-critical, and intelligent retail.
Get the latest from DFI.
Keep up to date with our latest news and analysis by subscribing to our regular newsletter.